International Etchells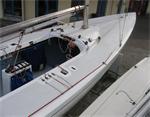 David Heritage Racing Yachts is one of only three boatyards worldwide with a licence to build the International Etchells.  The International Etchells strict one-design principle was established from the outset and is controlled by a strong, well-administered Class Association.
The hull is constructed with premium high performance resins and glass cloth, which combined with accurate temperature controlled post curing techniques, ensures quality and a long, trouble free hull life.  Control of construction ensures quality and uniformity. The Etchells fast, stable and sleek design enables it to be sailed comfortably and competitively.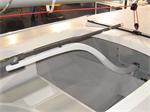 Dimensions
Overall length        9.29 m
Waterline length   6.70 m
Beam                       2.12 m
Draft                        1.37 m
Displacement        1.564 tonnes
Mainsail area        20m2
Genoa area            8.5m2
Spinnaker area     48m2
Specification
Hull and Deck
High quality controlled hand lay-up using the best resin and glass cloth from ISAF approved moulds in temperature controlled workshop and post cured to resin manufacturer's specification to ensure maximum hull and deck stiffness.
Colours
White/light grey
Specials
Double action bilge pump fitted on mast beam, glass tiller and easy adjusted mast rake system fitted as standard.
Foils
Fully optimised shape within class rules.
Fit out
Using top quality ball bearing blocks and cleats.  Machine tapered main, jib and spinnaker sheets. TackTic micro compass, safety equipment to class rules.
Rig
Mast, boom and spinnaker pole from Selden Masts, fully rigged with Dyform standing rigging and calibrated turnbuckles, 1 x 19 wire running rigging and Spectra spinnaker halyard adjustable mast step fitted as standard.  Other rig combinations are available.
Sails
David Heritage is a agent for Doyle Sails.  Please enquire for prices. 
North Sails Website
We have a number of second hand Etchells sails available – please enquire for a list or click here for our brokerage.
There are some excellent tuning and video guides with David Bedford on the Etchells Fleet UK site. Click here to view these Class Associations:  International Etchells Class Association
UK Class Association