Service
David and his team have experience with every form of construction from traditional wood to the modern construction techniques.  They can work with all aspects of refit and repairs.  Familiar with the latest materials and techniques, but also able to work to current design and ISAF rule requirements. David Heritage also specialises in insurance work from gel repairs to major collision rebuilds including spar and foil damage rectification.   
The yard is closely associated with all the UK's leading equipment suppliers, sail makers and service providers ensuring that they can offer their clients a complete service package.
Race Preparation
David Heritage specialises in the optimisation of production boats for racing, to include hull fairing and keel profiling.
For example, with the X boats, the hulls above and below the waterline are longboarded, followed by an application of Hi-build.  Then the hull is longboarded again before being sprayed with Epoxy Primer.  Finish to the top coat and/or antifouling. 
Examples of work include the hull fairing to the International Dragon 'Jerboa'  where Ron Rosenberg commented afterwards – 'I must tell you what a fantastic fairing job you have done with Gavia's 'Jerboa'… just beautiful!  So much faster both upwind and downwind… a huge difference and a great improvement over last year!'
Other examples include race optimisation with winning Squibs, Quarter Tonners, as well as with members of the British Olympic Sailing Team providing race optimisation for Ben Ainslie, Shirley Robertson and Iain Percy. 
Trailer Boxes
DHRY has the moulds for fibreglass trailer boxes as seen in this photograph & also a 
larger triangular front box.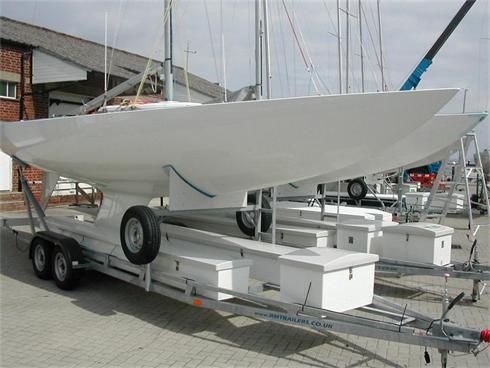 Three sizes are available:
Long box 4.26 m long x 350 mm wide and 300 mm high  – £793 plus VAT each 
Square box 750 mm long x 500 mm wide x 450 mm high – £446 plus VAT each. 
Large Triangular box (not shown) – £835 plus VAT each.
(The length of the long box can be varied)